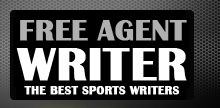 Yankee Addicts
Categories
Featured Sponsors
News published by
February 6, 2013
If Dallas Cowboys owner Jerry Jones watched the Super Bowl on Sunday night, he probably noticed a few things the Ravens and 49ers have that his team doesn't.The Niners have ...
January 30, 2013
In 2012, the Dallas Cowboys struggled with protecting Tony Romo from pressure up the middle due to insufficient play at the guard position. There is a possibility that current right ...
January 23, 2013
Now that we know where the Cowboys are headed on defense and Monte Kiffin was hired as defensive coordinator, we should have a better idea of what type of player ...
January 16, 2013
Bucs quarterback Josh Freeman became the organization's all-time leader in touchdowns with 78 this past season. Freeman tossed a career-high 27 TDs in 2012, also a team record. So it ...
December 12, 2012
Sometimes tragedy serves as a binding agent. According to Cowboys guard Nate Livings, that is exactly what happened on Sunday for the Cowboys. It was a rough one, but I ...
November 18, 2012
The Dallas Cowboys will play two games in the next five days, with both having the possibility to define their season. The Cowboys host the Cleveland Browns on Sunday in ...
October 24, 2012
The Dallas Cowboys were able to hold off the Carolina Panthers on Sunday for their third victory of the season. By no means was it a convincing enough win for ...
October 21, 2012
The Cowboys will try to get their season back on track this Sunday as they travel to North Carolina to take on the Panthers.Dallas has an eight-game winning streak against ...
October 3, 2012
During the offseason, there was a lot of talk about where the Cowboys needed to improve and which positions needed to be upgraded.The Cowboys secondary had become legendary for being ...
September 25, 2012
This past Sunday, the Cowboys squeaked by the Bucs 16-10 behind three field goals from kicker Dan Bailey. They take on the 2-1 Chicago Bears on Monday Night where both ...