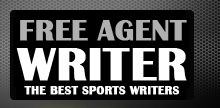 News published by
August 25, 2012
Let's get ready to rock, football fans. The Cowboys vs. Rams kick off at 8 p.m. ET in the preseason's all important third game. What to Watch ForHow the Cowboys first ...
July 4, 2012
The Dallas Cowboys made their fair share of moves this off-season to improve their fortunes in 2012. There was the addition of free-agent cornerback Brandon Carr, a move that cost ...
June 27, 2012
Friends, we are just about a month away from the start of the Dallas Cowboys training camp. July 20th is the first practice in Oxnard, California, where the 'Boys ...
June 20, 2012
The Dallas Cowboys have their fair share of players who may have jobs on the line this season. The saga of cornerback Mike Jenkins goes on as he battles for ...
May 23, 2012
It's not often that teams receive a reprieve for any previous decisions or actions. Most moves are judged from hindsight, especially in the case of the media.The Dallas Cowboys are ...
May 16, 2012
Position battles are an essential part any team's training camp regimen. The Dallas Cowboys aren't any different, and they will have a number of them to watch before the regular ...
May 2, 2012
The NFL draft has come and gone and people are still talking about the Cowboys' picks. Boise State defensive end Tyrone Crawford is probably the second most talked about pick ...
April 11, 2012
As we approach the 2012 NFL draft and examine which players are best fit for the Dallas Cowboys, it's also important that we look back. There is a saying that ...
March 7, 2012
The Dallas Cowboys are a little over a month away from selecting 14th in the 2012 NFL Draft and possibly changing the fortune of their franchise. Dallas needs help on ...
February 19, 2012
Take a look at the way the Dallas Cowboys finished the 2011 season, and it is pretty easy to pick which players deserve to stay for 2012 and which ones ...