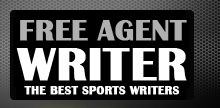 Yankee Addicts
Categories
Featured Sponsors
News published by
April 30, 2011
The draft has come and gone and it was an exciting three days for all NFL teams.Some teams had very solid drafts that will pay huge dividends in the new ...
April 30, 2011
The Eagles on Day 3 made eight picks, giving them 11 overall in the 2011 NFL Draft.Most of these picks were for depth, but a few could end up being ...
April 19, 2011
Quarterback Kevin Kolb started this past season as the Philadelphia Eagles' starter.Andy Reid had sold the fanbase on him, calling him a quarterback who could lead the franchise ...
April 18, 2011
The Eagles have one of the hottest trade commodities in backup quarterback Kevin Kolb. Could they be fielding offers for another quarterback? According to Jeff McLane of the Philadelphia Inquirer, citing a ...
April 13, 2011
The Eagles love to build their defensive line through the draft. Andy Reid spent his first round picks in 2005 and 2006 on defensive tackles Mike Patterson and Brodrick Bunkley; ...
April 13, 2011
Usually the first step Andy Reid and Howie Roseman take after the season is determining the needs after looking at the depth chart. Reid would determine where the team is ...
April 9, 2011
The Philadelphia Eagles have major needs along the offensive line and on defense.Andy Reid values his second round pick greatly, and over the years some of his best picks have ...
April 8, 2011
One of the Philadelphie Eagles' greatest needs in the offseason is upgrading the right cornerback position opposite of star Asante Samuel. At 23rd overall in the first round, the Eagles will ...
April 4, 2011
Though there cannot be any trades until a new CBA is reached, there has still been many rumors and speculation regarding player movement. One of the most talked about trade ...
April 3, 2011
When I did my mock draft board for the Eagles, I had Da'Quan Bowers at number two on the board. Bowers though, had a horrible pro day and is plummeting ...