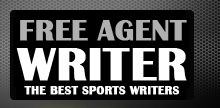 Yankee Addicts
Categories
Featured Sponsors
News published by
March 12, 2013
The first day of free agency is underway, and there have already been some moves that impacted how the San Diego Chargers will look in 2013.Bill Williamson of ESPN.com wrote ...
December 19, 2012
As if the 31-7 blowout loss to the Carolina Panthers on Sunday wasn't bad enough, the San Diego Chargers were dealt yet another blow when wide receiver Malcom Floyd and ...
August 13, 2011
As I walked around the parking lot of Qualcomm Stadium, (the largest parking lot of all 32 NFL teams) looking for Chargers' fans to interview, I was attracted to one ...
April 21, 2011
On Thursday, the 2011 NFL Draft will be seven days away. Hundreds of college players will see their dreams of one day becoming professional football players finally come true. After collecting ...
April 9, 2011
With the 2011 NFL Draft less than three weeks away, I thought I would take this time to highlight those players that the San Diego Chargers decided to waste a ...
March 22, 2011
What are NFL players to do with their free time now that the owners have locked them out? Go on vacation, catch up on a good book, maybe enjoy a good movie or ...
March 4, 2011
In a move that San Diego Chargers fans were hoping for, former Indianapolis Colts strong safety Bob Sanders will be wearing powder blue, navy and gold this season. The Chargers signed ...
March 3, 2011
As the clock continues to countdown towards doomsday, the 11:59pm EST deadline looms over the heads of the NFL and the NFL Players' Association to come to an agreement on a new ...
March 3, 2011
The San Diego Chargers signed nose tackle Ogemdi Nwagbuo and linebacker James Holt to contracts on Wednesday, and have placed tenders on ten other players including wide receiver Malcom Floyd, ...
February 26, 2011
Yesterday, began the start of the 2011 NFL Scouting Combine at Lucas Oil Field in Indianapolis. The Coaches, Scouts, and General Managers of all 32 NFL teams arrived today for ...