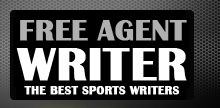 Yankee Addicts
Categories
Featured Sponsors
News published by
March 6, 2011
This past week, the Atlanta Falcons placed a first-round tender on their "shut down" corner Brent Grimes. While some of you may not agree with me that he is a ...
February 2, 2011
While there are a lot of needs on this team, and we play in a hard division. We can do it with a few moves and a good draft. We ...
January 16, 2011
A co-worker and I got into a heated debate about kickoffs and coverages. I stated that if my kicker had the leg for it, I would want him to kick out ...
October 16, 2010
       I am as happy as I have ever been as a Lions fan! For once I feel like we are headed in the right direction and not lying to myself.        ...
October 14, 2010
While I am fully aware of Shawne's history of injury and lack of production, don't you think he might be an upgrade compared to the broke down LB Corp we currently have. ...