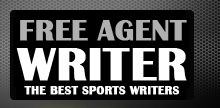 Yankee Addicts
Categories
Featured Sponsors
News published by
November 6, 2010
As a life long Packers fan, I am not used to this. The Packers DEFENSE is carrying this team to wins? I have gotten spoiled with the likes of Brett ...
November 4, 2010
Throw out your predictions, tear up your power rankings and say goodbye to your sanity and any common sense you thought you had regarding the National Football League. The 2010 NFL ...
April 18, 2010
I read mock drafts just like everybody else... And they all usually turn out the same. Too many are "all business", which ignores the point of creating a mock draft. ...
April 16, 2010
He was Big Ben's go to guy. He was the biggest offensive weapon. He ranked seventh in receiving yards in 2009. He was heralded as a Super Bowl ...
April 13, 2010
Brian Westbrook is the Plague. Quicksand. A swarm of hornets. Call him whatever you like, as long as it keeps the Packers away from signing the veteran halfback. Don't get ...