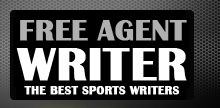 Yankee Addicts
Categories
Featured Sponsors
News published by
April 25, 2010
It appears Martin Mayhew, Jim Schwartz and the rest of the Lions front office have done it again. The 2009 draft proved to be no fluke as Detroit seems to have ...
April 21, 2010
1. Will Sam Bradford's refusal to negotiate prior to the draft influence the Rams decision? 2. Is the lack of bulk, at least by prototypical NFL standards, going to hurt Suh ...
April 17, 2010
The 2010 NFL draft provides teams one of the deepest classes in the last several years. Here is a look at each position: 12. Guard-Center With one definite first-round pick in Mike ...
April 6, 2010
With two weeks remaining until the 2010 NFL draft begins, hundreds of mock drafts have already been published. Mel Kiper Jr. and Todd McShay are two of the more well-known ...
April 3, 2010
The 2010 NFL draft--let alone season--will be a real pressure-cooker for a handful of General Managers. A couple executives on this list are among the longest-tenured GMs in the league. Others ...
March 31, 2010
Len Pasquarelli, ESPN—While he notes that Suh has the makeup to be a special talent, Pasquarelli cites past drafts as enough reason to at least consider taking a defensive tackle ...
March 30, 2010
The 2010 NFL draft is less than a month away. It will mark the first time the league extends all seven rounds over three days of live coverage. Other things ...
March 26, 2010
The 2010 NFL Draft has several prospects that will be taken in the sixth or seventh rounds, while others will be undrafted free agents. Some of the most productive players ...
March 22, 2010
The 2010 NFL Draft has its fair share of prospects who, for one reason or another, have seen their mock draft projections fluctuate considerably. Maybe it's a lack of prototypical size ...
March 20, 2010
Scott Pioli has eight picks within the first five rounds. That many picks combined with his football acumen and track record of assembling talent means the Chiefs could be one ...