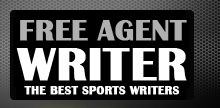 Yankee Addicts
Categories
Featured Sponsors
News published by
April 25, 2015
Wide receivers, first-round draft picks and San Francisco 49ers general manager Trent Baalke share one of those relationships where each party increasingly resents the other. Well, not exactly. But the interplay ...
May 20, 2014
Projecting the San Francisco 49ers' most heated roster battles this offseason would normally inspire some raised eyebrows. After all, the 49ers are a legitimate championship contender, perhaps even better than the ...
February 11, 2014
Ask the San Francisco 49ers brass if cornerbacks and wide receivers are their top free-agent targets and they'd likely answer in the affirmative. Well, perhaps if you spike their coffee with ...
December 28, 2013
The 2014 Pro Bowl voters awarded the San Francisco 49ers with an NFL-leading eight selections to football's annual all-star showcase. Team captains Justin Smith and Patrick Willis lead a group that ...
July 27, 2013
Per the seeming age-old adage these days, the San Francisco 49ers don't have many training camp battles as most well-documented Super Bowl contenders. Yet, the positional clashes that do exist hold ...
July 5, 2013
"Childhood" is a relative time when it comes to San Francisco 49ers jerseys you likely rocked during your formative upbringing. But when we involve the 49ers in any discussion of ...