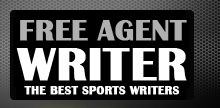 Yankee Addicts
Categories
Featured Sponsors
News published by
August 18, 2010
Shortening the NFL preseason to two games has been an interesting topic of discussion over the past few years, and change is most likely coming."The fans have made it ...
August 13, 2010
Many have criticized Ted "The Polar Bear" Thompson over the past few seasons because of his refusal to pick up key free agents.He's also been criticized for the way he handled the whole Brett Favre ...
August 8, 2010
  Jermichael Finley's dominance on the gridiron last season has earned him a nice little moniker that Packers haters will quickly become sick of listening to. Don't worry Vikings fans, there's no way ...
August 7, 2010
Expectations in Green Bay for the 2010 season are soaring higher than they've been in the past decade, and ILB Nick Barnett isn't afraid to talk about it.  "Super Bowl or Die," said ...
August 6, 2010
Despite reports that claim Favre has played his last snap in the NFL, millions around the world are still not convinced. I won't lie, Favre has fooled me over the past few ...
July 26, 2010
In about a month and a half, life will seem right again for NFL fans around the world. When it's all said and done, not every fan is fortunate enough to ...
July 23, 2010
August 10th. If you're a huge Madden fan, this day cannot come quickly enough. To many gamers, Madden is like a drug. No matter how hard your eyes are ...
July 21, 2010
The NFL is home to some of the most talented and gifted athletes on earth. Whether they made it because of hard work and determination, or because of natural talent, they ...
July 20, 2010
When it comes to putting on a show, the Green Bay Packers are one of the best in the business. Not only are they apart of some of the NFL's most ...
July 17, 2010
If you were fortunate enough, you've had the luxury of watching some of the greatest players to ever represent the green and gold. The Green Bay Packers are the only team ...