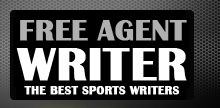 Yankee Addicts
Categories
Featured Sponsors
News published by
January 26, 2011
The time has come again to begin looking ahead to the NFL Draft.  The NFC and AFC Championship games have come and passed and most teams are in offseason mode ...
September 19, 2010
The Chicago Bears were able to improve their record to 2-0 with an impressive win over a Dallas Cowboys team that some expected to make it to the Super Bowl ...
August 4, 2010
This article is also found at The Chicago Perspective .  Check it out and help out a young writer. The countdown is on for the NFL.  We are closing in on ...
May 27, 2010
The Chicago Bears' defense went from greatness just a few years ago to being a unit that other teams love to play because their quarterback will rack up big numbers. This, ...
May 22, 2010
Sports are always home to debates. Kobe or LeBron? Is A-Rod any good? Will Brett Favre ever retire? One debate that is centered around two current NFL players ...
May 7, 2010
If you look around the blogosphere, you can find article after article calling the Bears mediocre, a horrible team, nothing special, etc.  But looking at the roster, you begin to ...
March 25, 2010
Before I start to explain the exact rule change that Roger Goodell decided to make, I would like to announce that for my NFL Mock Draft series, I ...
March 22, 2010
Time to get out a pick a day, which means less time to get in your vote. So make sure as soon as you read this article to vote and ...
March 15, 2010
The St. Louis Rams will be in the middle of the debate that has plagued the NFL throughout it's history, and they will be forced to answer the age old ...
March 12, 2010
While Torry Holt was making his rounds at ESPN , getting ready for his eventual post-NFL career on NFL live and SportsCenter, an interesting proposition was made. He is still a ...