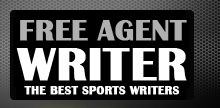 Yankee Addicts
Categories
Featured Sponsors
News published by
January 7, 2011
The Kansas City Chiefs hosting a playoff game this Sunday is far more than was expected from this team. The 2010 Chiefs season is already a success.  They have exceeded their ...
January 2, 2011
Every person has a right to do what they want with their own lives when it comes to the profession they have chosen. Also, nobody knows what goes on behind the scenes ...
January 1, 2011
That's all I keep reading.  The NJ Jets ( Please do not correct that, they play in NJ) want to play in Kansas City instead of facing the invincible Peyton ...
December 31, 2010
I think the Kansas City Chiefs should play this game like any other, play every starter and not let up for one minute until it's completely out of reach.  That, of course, ...
December 18, 2010
Fans love to dissect this argument like it's a ninth grade biology class frog. Does it really define how good a team is?  Or is it misleading like so many other ...
December 9, 2010
I keep hearing the two knocks on Brodie Croyle, both valid.  He can't stay on the field because he's made of glass, and he's 0-9 as a starter. True enough.  He ...
December 7, 2010
Score more points. That was easy—now I can go rake the lawn. I suppose the folks at Bleacher Report are looking for more detail, so here we go. Certain lessons can be ...
December 6, 2010
The Broncos were not going up by 35 points in this game, in the first quarter or any quarter. The pundits will point out the Chiefs mistakes, which were many, but will ...
December 4, 2010
Following are the seven articles I've written in the short time I've been writing for Bleacher Report. Since the day Matt Cassel was traded to the Chiefs I was thrilled—a ...
December 2, 2010
A blocked punt, a blocked field goal and a blown assignment on an 87-yard touchdown pass. Not perfect, but pretty close.  Those types of breakdowns in the special teams are rare and maybe ...