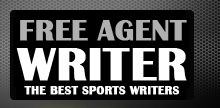 Yankee Addicts
Categories
Featured Sponsors
News published by
October 31, 2010
I'm going to be short, sweet and to the point here. My bold prediction for the week is that the Kansas City Chiefs gain a full game on everyone in ...
October 31, 2010
Week 8 is here at last, and with it comes Drew Brees vs. Troy Polamalu, the Miami Dolphins vs. the Cincinnati Bengals in the matchup of the underachievers, the improved ...
October 28, 2010
The Kansas City Chiefs were drowning in a sea of inexperience, lack of discipline and an overall void of direction from the last half-decade of declining veterans like Larry Johnson, ...
October 22, 2010
In the midst of the Brett Favre-Jenn Sterger scandal, I thought it might be nice to talk about some Minnesota Vikings football this week, including Randy Moss's rear end returning ...
October 15, 2010
The NFL is a constantly evolving league, and this fact usually brings many positional changes from year to year. In the '70s, it was run first and pass questions later. ...
October 13, 2010
During the third week of the 2010 preseason, I wrote this piece about the possibility of Brett Favre's return turning out to be a disappointment for all parties involved. It ...
October 2, 2010
This week in the NFL we have a Sunday night match-up between Eli Manning's New York Giants and the undefeated Chicago Bears led by QB Jay Cutler and running back ...
September 24, 2010
On Tuesday, September 21st, Philadelphia Eagles coach Andy Reid made his second controversial move of the year—he named Michael Vick the team's starting QB after giving QB Kevin Kolb only ...
September 23, 2010
What a difference a day makes. On Monday, September 21st, Philadelphia Eagles head coach Andy Reid told the press that QB Kevin Kolb was the going to be ...
September 21, 2010
After week two of the 2010 season, a mere one-quarter of the league still holds the tag "unbeaten." There are some familiar names on this list, as well as some ...