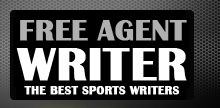 Yankee Addicts
Categories
Featured Sponsors
News published by
January 14, 2011
In the last week, we've seen all but one NFL franchise shore up their vacant head coaching positions. The Panthers parted ways with head coach John Fox and hired San ...
December 28, 2010
The Kansas City Chiefs are one of the biggest turnaround stories of the year, yet they have still managed to fly under the radar for much of the 2010 season. ...
November 30, 2010
Seven weeks ago the Kansas City Chiefs were overachieving despite a lack of production from their lackluster offensive leaders Matt Cassel, Dwayne Bowe and Jamaal Charles. The Chiefs ...
November 29, 2010
The last few weeks the Chiefs QB Matt Cassel, RB Jamaal Charles and pass catching circus act WR Dwayne Bowe have been crushing the competition's confidence with an incredible cohesion ...
November 23, 2010
Thomas Jones and Jamaal Charles combine for the league's best running attack, Dwayne Bowe is possibly the NFL's hottest wide receiver, and Matt Cassel is one of the ...
November 15, 2010
Everyone who follows football knows why the Kansas City Chiefs lost to the Denver Broncos on Sunday afternoon: The defense didn't show up and gave up 49 points. I'm not ...
November 13, 2010
NFL stars like Peyton Manning, Andre Johnson and Chris Johnson along with power teams like the Indianapolis Colts and Pittsburgh Steelers have had us all drinking the AFC-flavored Kool-aid in ...
November 8, 2010
In Week 9, the Kansas City Chiefs looked to come out of Oakland's "Black Hole" with a win over the Raiders and a stronghold on the ...
November 7, 2010
With so many surprises this season in the NFL—the 5-2 Kansas City Chiefs' Jamaal Charles running wild, the 2-5 Minnesota Vikings and struggling QB Brett Favre, the NFC East favorite ...
November 4, 2010
By now, everyone knows that the Tennessee Titans claimed future Hall of Fame wide receiver Randy Moss off waivers on Wednesday, November 4th. What has managed to fly a little ...