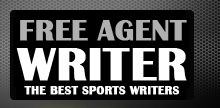 Yankee Addicts
Categories
Featured Sponsors
News published by
October 4, 2010
Week 4 was a tough one for a plethora of fantasy owners, as elite fantasy options Michael Vick and Jay Cutler both succumbed to injuries during their first respective halves ...
July 27, 2010
Last evening, I had the pleasure of attending the grand opening of the Center City Sports Bar in Paterson, NJ. While the event had little impact on anyone outside of the ...
July 13, 2010
Vincent Jackson came up big for the Chargers in 2009.  He posted 68 receptions for 1,167 yards, and led the team with nine receiving touchdowns.  However, he has ...
June 24, 2010
While there is still a whole summer and four preseason games before the 2010 NFL season gets underway, fantasy football aficionados are already in the process of organizing leagues and ...
June 18, 2010
In 2007 and 2008, Albert Haynesworth was a hands down All-Pro and Pro Bowl defensive tackle. In fact, just about everyone in the league considered him the most dominant at ...
June 9, 2010
            One of the most highly coveted receivers from this years draft, Notre Dame product Golden Tate has been one of those very fortunate Division I athletes to take a ...
May 28, 2010
The time in the NFL where workhorse running backs can expect to see 25-30 carries a game is fading. Change of pace and goal line backs are becoming more ...