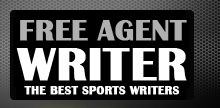 Yankee Addicts
Categories
Featured Sponsors
News published by
March 22, 2011
2011 NFL Mock Draft's are starting to really shape-up now that the 40's have been ran at the combine and the teams are starting to get to know the prospects ...
March 2, 2011
2011 NFL Mock Draft Post-Combine Edition Follow me on Twitter @JohnLorge 1. Carolina Panthers, Cam Newton, QB, Auburn—Too hard not to take a game-changing QB No. 1. I would still go Peterson. 2. ...
January 30, 2011
The 2011 Senior Bowl is one of the best collections of NFL Draft talent we've seen in the game according to analyst Mike Mayock. The South team took it to the ...
January 28, 2011
The 2011 Senior Bowl is this Saturday, January 29. For many NFL coaches and scouts what happens during practice week is more important than the actual game.For many though, the ...
January 20, 2011
Mel Kiper is the NFL Draft, and his first 2011 mock draft is what football fanatics have been waiting for since last April.  Mel's hair, his voice, the way he ...
January 12, 2011
NFL trade rumors are swirling now that the 2010 regular season is over.  Almost a third of the league is looking for a QB, WRs are always in demand, and ...
January 9, 2011
2011 NFL Draft sleepers can be found at schools big or small.  As we've experienced with James Harrison and Wes Welker, some of the best prospects can even go undrafted.So ...
January 6, 2011
John Harbaugh is the hottest coach in sports right now.  He took Stanford from being an 1-11 cellar dweller in 2006 to 11-1 with the Cardinal's 2011 Sugar Bowl win ...
January 4, 2011
Tom Cable is on the hot seat, and ESPN rumor-hound Adam Schefter is reporting that the Oakland Raiders will not pickup his option on January 18th.  Although Cable finished 8-8 ...
December 22, 2010
2011 NFL mock drafts are starting to shape-up with the end of the pro season close.  The picks will continue to shuffle and now that we're Bowling plenty of talent ...