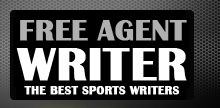 Yankee Addicts
Categories
Featured Sponsors
News published by
December 20, 2010
NFL playoff scenarios are becoming much more clear as we approach the final two weeks of the NFL season.New England and Atlanta have clinched a position in the playoffs, but ...
December 16, 2010
49ers vs. Chargers was supposed to be a late-season, Thursday Night matchup between two division leaders.That isn't the case, but both sides still have a lot to play for (playoffs!) ...
December 13, 2010
On paper, the New England Patriots don't look like the most dominant team in football, they look like shootout specialists.  Their defense gives up almost 400 yards per game, 4.3 ...
December 10, 2010
Randy Moss has caught TDs from Tom Brady and Brett Favre this season. He's made a one-handed catch with Darrelle Revis, one of the game's top corners.It's hard to believe ...
December 10, 2010
The Tennessee Titans have gotten down two scores several times in the game against the Indianapolis Colts but instead of folding they've decided to put the ball in the hands ...
December 10, 2010
Despite losing three straight, Peyton Manning and the Indianapolis Colts are still within a game of the AFC South leaders, the Jacksonville Jaguars.  Facing the Tennessee Titans on Thursday night, ...
April 22, 2010
The NFL's version of Christmas (or maybe Hanukkah) is upon us.  I am officially mocked out after five months of trying to predict the 2010 NFL draft and now it's ...
April 16, 2010
On the Google Images page for "NFL Draft Busts," over 241,000 images of Tony Mandarich, Brian Bosworth, Ryan Leaf, and other famous failures populate. Hindsight is 20/20, so today it's crystal ...
April 13, 2010
The 2010 NFL Draft is less than two weeks away and this is where the mock drafts really become relevant. Trades, signings, and pro days have altered the draft ...
March 11, 2010
Now that the NFL Combine has been digested and we're knee deep in Pro Days and Free Agency 2010 NFL Mock Drafts are starting to become relevant. I have ...