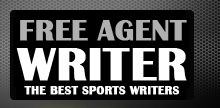 Yankee Addicts
Categories
Featured Sponsors
News published by
February 7, 2011
Coming straight out of Nebraska, Prince Amukamara is one of the the biggest names in the NFL draft. Amukamara is in his senior year at Nebraska. This six foot stud has ...
January 15, 2011
Every NFL team goes through their hardships from time to time. Many take years to develop and some never evolve. The Detroit Lions have gone through some extensive tough times. The ...
October 9, 2010
Hello fantasy football fans, I'm back again with my hot instincts on who to start or sit for week 5 of the NFL.This week is extremely crucial for some teams. ...
September 7, 2010
Let the games begin. It's here, the most anticipated time of the year. The NFL season is among us all.From bone-crushing hits to nail-biting finishes week in and out, sports ...
September 2, 2010
As the preseason finally comes to a conclusion, several teams have made a decision on who fits where.With that said, some teams have found themselves on the down side of ...
August 26, 2010
Rookie running backs over the years have had their fair share of struggles. With the NFL teams shifting to a two running-back system, I've noticed that these young prospects hardly ...
August 14, 2010
With every new season comes prosperity and hope. The front offices of most NFL organizations await to see what the draft has provided them. With that said, the Philadelphia Eagles had ...
August 12, 2010
When drafting a fantasy football team many may find the beginning of the draft to be extremely easy and automatic. I've been a commissioner of two football pools for over ...
August 8, 2010
Moss in Minnesota? Really? In a discussion with some reporters from the Boston Globe, Randy Moss explained how he felt about his future as a New England Patriot. He explained to ...
August 7, 2010
Yes, the football world has been dominated by the male species for many decades. But the times are changing and women are becoming more familiar with this spectacular sport. The female ...