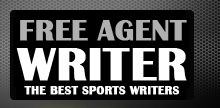 Yankee Addicts
Categories
Featured Sponsors
News published by
August 5, 2010
With the NFL season just around the corner, many fantasy owners are licking their chops getting ready for a fun-filled adventure of hard hitting, trash talking, and jaw dropping catches. In ...
August 4, 2010
With all the talk about Brett Favre and his decision to retire finally coming to a conclusion many ask,"What's next?" Well to tell you the truth, I've been so disgusted with ...
July 28, 2010
Gone are the days of Brian Westbrook and Donovan McNabb. As a matter of fact, if you scan your finger down the roster of the Philadelphia Eagles you will be ...
July 28, 2010
Looking around the league, you can see that the veteran tight ends are making their way towards the end of their careers. With that said, we must look towards the ...
July 26, 2010
In 2009, the Detroit Lions drafted Brandon Pettigrew, a 6'5, 265 pound beast out of Oklahoma State. This first-round selection created a buzz around the league. Not too many tight ...
July 21, 2010
Have you experienced anxiety and sleepless nights? If you answered yes, then you have something in common with a future star running back that is developing in Seattle. If there was a ...
July 21, 2010
Hello sports fans, as coaches gather their information and sit tightly in excitement for another nail biting year, a so-called reality of fantasy football leagues are emerging throughout the world. ...
July 20, 2010
Hello, fantasy coaches! The anticipation of another NFL season is rising right before us. For those who use fullbacks in their fantasy draft, I wanted to give all of the ...
July 18, 2010
How do you take your coffee? Some may have it sweet and others may have it bitter. Some may choose not to even try it. This is something that I ...
July 14, 2010
If there was a celebrity show that would involve NFL coaches. I believe the Biggest Loser TV show involving overweight coaches would be hilarious. Could you imagine, the coaches that ...