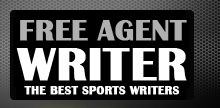 Yankee Addicts
Categories
Featured Sponsors
News published by
September 13, 2010
Prior to taking the field for Sunday night's season opener, the Dallas Cowboys had one win and three losses when Tony Romo threw 45 or more passes. In Sunday's loss to ...
August 21, 2010
The 2010 NFL season is quickly approaching. It's time to make wild predictions about how teams will perform, who will win what and provide more than the necessary amount of ...
August 8, 2010
Emmitt Smith officially entered the Pro Football Hall of Fame Saturday night with a speech that echoed his the greatness he showed on the field throughout his career. In his induction, ...
June 2, 2010
Safety Oshiomogho (O.J.) Atogwe is officially on the market after the Rams chose not to offer him the nearly $7 million they would have needed to in order to assure ...
June 1, 2010
Patrick Crayton has been far from quiet about the way he feels he is being treated by the Dallas Cowboys' front office recently. He told the media that Dallas is "messing ...
May 14, 2010
Training Camps are closer than you think. Off-season work outs are upon us. These are the times to start thinking about who will be marching on the field ...
April 25, 2010
The draft has come and gone. Now it's time to find out how your favorite team did. With a draft this deep it was hard to mess it ...
April 15, 2010
With the NFL Draft one week away, the time has come to look at what players the Dallas Cowboys could target to fill in the holes in their roster.   The ...