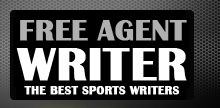 Yankee Addicts
Categories
Featured Sponsors
News published by
December 3, 2010
This article was originally posted on JetsReport.com The Jets took a huge blow today at the end of Friday practice, when safety Jim Leonhard got tangled up with back-up ...
November 6, 2010
Read more Jets news and analysis at JETS Report. The Jets and Lions do not have a storied history together. As non-conference foes, they face each other once every four ...
October 21, 2010
Read more Jets news and analysis at JETS Report   As you know by now, the Jets are on their bye week and for a lot of Jets fans, that means there's ...
July 25, 2010
Taking a break from traditional NFL analysis, I thought it would be fun to look at the Madden NFL 11 Ratings for the Jets and see how accurately the virtual ...
July 25, 2010
  Marques Douglas was not exactly a household name on the Jets top-ranked defense last season, but he was an underrated defensive end who doesn't light up ...
July 11, 2010
No team has created more of a buzz going into the 2010 season than last year's playoff darlings, the New York Jets. I thought now is a good time to preview ...
July 4, 2010
After a fine first season under rookie head coach Rex Ryan and rookie quarterback Mark Sanchez that culminated with the Jets falling just short of a Super Bowl appearance, it's ...
June 25, 2010
On August 11th, HBO's football reality series, "Hard Knocks" will begin its seventh season and for the first time in team history will feature the New York Jets. For HBO and ...
May 31, 2010
The New York Jets and the Miami Dolphins. Two AFC East rivals who have played some of the most memorable games in NFL history. They have a lot in common, ...
May 14, 2010
Jets cornerback Darrelle Revis has been a phenom since the Jets traded up to draft the former Pittsburgh Panther in the first round of the 2007 NFL Draft. He's looked ...