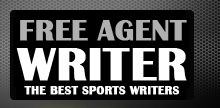 Yankee Addicts
Categories
Featured Sponsors
News published by
August 26, 2010
The third episode of HBO's Hard Knocks debuted last night and with its up-close look at the New Jets training camp.  This week's episode saw the pressure and heat ratcheted ...
August 19, 2010
Week 1 of the NFL preseason is officially behind us, and that means only one thing--heated position battles are now reaching a boil.All over the league there are starters and ...
August 18, 2010
The first preseason games are officially behind us, and now teams and fans are in full gear as everyone ratchets up for Week 1 of the regular season. However, there ...
August 17, 2010
Most expect stars to take center stage when the New York Giants and New York Jets meet in their annual preseason contest.  This year, however, it was the relatively unknown ...
August 16, 2010
Tim Tebow made his long-awaited NFL debut last night.  After all the news of his haircut, the Broncos depth chart, and everything else, we finally saw Tim Tebow on an ...
August 10, 2010
Football fans received their annual treat with today's release of Madden NFL 11.  The game itself is now an annual rite of passage for the upcoming NFL season with gamers ...
August 9, 2010
Last night's Hall of Fame Game officially kicked off the 2010 preseason schedule. The very first game between the Dallas Cowboys and Cincinnati Bengals had plenty of juice in the ...
August 4, 2010
The Redskins' defensive tackle and the highest paid defensive player in the league, Albert Haynesworth, has made seemingly countless headlines over the last week for his inability to pass the ...
August 3, 2010
FOX Sports' Jay Glazer reported via his Twitter account that Minnesota Vikings quarterback Brett Favre has told his teammates and team officials that he will not play in 2010. ESPN's ...
July 30, 2010
By the end of the weekend, all 32 NFL training camps will be in full swing. The crack of helmets colliding, the smack of pads smashing, and all the drama ...