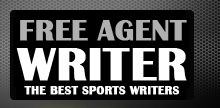 Yankee Addicts
Categories
Featured Sponsors
News published by
July 9, 2010
12 hours after ESPN celebrated itself with the LeBron James spectacle, ESPN was caught with its tail in the bear trap again today with the news that NFL analyst and ...
June 30, 2010
Tragic news broke out this morning the 2-year-old son of former NFL quarterback Randall Cunningham died in a hot tub accident at Cunningham's house, according to the "Las Vegas Review-Journal." The ...
June 2, 2010
Weather is always an anomaly in sports. It can have as dramatic of an effect on the game as anything the teams and players do themselves. Sometimes weather is ...
June 2, 2010
The midnight deadline came and went for the St. Louis Rams to retain free safety O.J. Atogwe for the 2010 season. In order to keep Atogwe under their control, ...
May 27, 2010
After months of mudslinging, indecent photos, legal accusations and police reports, somebody finally came to the defense of beleaguered Pittsburgh Steelers quarterback Ben Roethlisberger. LPGA golfer Natalie Gulbis went on record ...
May 26, 2010
The National Football League took an unprecedented step yesterday when commissioner Roger Goodell announced that Super Bowl XLVIII will take place at the New Meadowlands Stadium in New Jersey. Super Bowl ...
May 21, 2010
Every new NFL season brings many questions. One question that inevitably pops up is which head coach should fear for his job in the upcoming season? That pattern is ...
May 7, 2010
The NFL salary cap can be a scary thing for many NFL clubs. Getting as close to the salary cap without going over is the ideal situation which makes overpaying ...
May 7, 2010
The latest accusations that former New York Giants linebacker Lawrence Taylor raped a 16-year-old girl in a New York hotel is another black mark in L.T.'s personal life. Since ...
May 6, 2010
In another sad state of affairs for one of the most notoriously troubled former athletes, the tale of Lawrence Taylor took another ugly turn on Thursday morning. According to ...