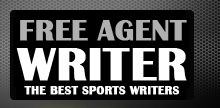 Yankee Addicts
Categories
Featured Sponsors
News published by
July 24, 2010
Kaye Cowher, the wife of former Pittsburgh Steelers' head coach Bill Cowher, passed away Friday night at the age of 54.  Mrs. Cowher had been battling skin cancer for some ...
July 22, 2010
  The Steelers added another offensive lineman to the active roster Wednesday, signing veteran journeyman Adrian Jones to a one-year deal for what is believed to be the league minimum of ...
July 21, 2010
Each new season brings excitement, certain anticipation, and things fans consider to be expected. But with all the expectations come certain surprises as well. Surprises such as unexpected players, the ...
July 13, 2010
The AFC West was in a state of disarray last season to say the least. From Josh McDaniels replacing Mike Shanahan in Denver, to San Diego's regular season dominance turned ...
July 6, 2010
Every Draft class comes into the league with high expectations, and every draft class has its fair share of guys that fall short of the high expectations put on them ...
June 28, 2010
As July approaches, teams are gearing up for training camp and the 2010 season. Questions of who will make the cut are on the minds of coaches, players, and fans ...
June 24, 2010
The Pittsburgh Steelers have made a bigger splash in free agency to date than they have in the last several years combined. The addition of veterans with recognizable names and ...
June 22, 2010
The loss of a key player to injury or suspension can be the difference-maker for a potential Super Bowl team's season. As the Pittsburgh Steelers can attest, losing more than ...
June 14, 2010
Tennessee Titans quarterback Vince Young was issued a Class C assault citation early Sunday morning. The citation came after an exchange that turned violent around 3:30 AM in the back office ...
June 10, 2010
Over the last few years many of the dominant receiving names in the NFL have come and gone in one way or another. The departure of names like Jerry Rice, ...