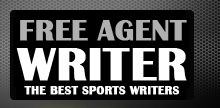 Yankee Addicts
Categories
Featured Sponsors
News published by
February 7, 2011
The Green Bay Packers beat the Pittsburgh Steelers 31-25 in Super Bowl XLV, and with it brought back a trophy that carries the namesake of the their legendary head coach, ...
January 4, 2011
The AFC North and a first round bye were on the line as the Pittsburgh Steelers defeated the Cleveland Browns by a final score of 41-9 in a clash that ...
December 7, 2010
The Pittsburgh Steelers defeated their hated division rival Baltimore Ravens 13-10 in a primetime game in Baltimore Sunday Night. Going into the game knew the importance of this game in ...
November 1, 2010
The Pittsburgh Steelers fell to the defending Super Bowl champion New Orleans Saints Sunday night by a final score of 20-10. The final score, however, gives no indication of just ...
October 25, 2010
NFL Network insider Jason La Canfora is reporting that Pittsburgh Steelers defensive end Aaron Smith could be out for the remainder of the season after suffering what appears to be ...
September 28, 2010
The Pittsburgh Steelers defeated the Tampa Bay Buccaneers Sunday afternoon 38-13, and the game was not as close as the score would lead you to believe.   Charlie Batch gift-wrapped an ...
September 22, 2010
The Pittsburgh Steelers defeated their week two opponent the Tennessee Titans Sunday afternoon by a final score of 19-11. As week two in the 2010 NFL season comes to a ...
September 19, 2010
Coming into the 2010 NFL season, the Pittsburgh Steelers had some questions to answer, and what the team would do in the absence of Big Ben Roethlisberger was on the ...
August 27, 2010
Just when the Pittsburgh Steelers' running game was seemingly on the rise, they suffered an abrupt setback today.  Starting running back Rashard Mendenhall has reportedly broke his arm. Full details ...
August 12, 2010
Training camp usually maintains a focus on new faces. Whether it's high-profile draft picks or undrafted free agents fighting for a roster spot, we often look passed the familiar to ...