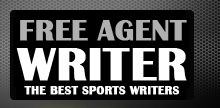 Yankee Addicts
Categories
Featured Sponsors
News published by
April 22, 2010
The NFL has finally released its 2010 schedule, and that means it's time to speculate on how teams will do before ever playing a down. The San Francisco 49ers finished ...
April 9, 2010
The NFL owner's choice to opt out of the collective bargaining agreement created an unprecedented number of restricted free agents in 2010. This has left over 200 players with less ...
April 8, 2010
With the owners opting out of the NFL's collective bargaining agreement, it severely limited the number of unrestricted free agents this year. Only those players who have been in the league ...
April 7, 2010
Though the San Francisco 49ers finished two games behind the Arizona Cardinals in the NFC West, they had a better division record (5-1) and swept the Cardinals during the ...
March 15, 2010
In fantasy, the greatest feeling besides winning a championship is finding a sleeper late in your draft.  It might've been Wes Welker, Marques Colston, Steve Slaton, or Mike Sims-Walker.  It makes us ...