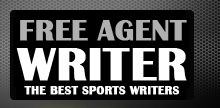 Yankee Addicts
Categories
Featured Sponsors
News published by
February 9, 2016
When Super Bowl 50 concluded, the majority of the people I was watching with—mostly neutral NFL fans—had a bad taste in their mouth.  Sure, Denver's defense was a joy to watch, ...
August 30, 2014
Rookies Carlos Hyde and Jimmie Ward looked anything but shellshocked in their first NFL preseason. The way their talent translated to the professional gridiron were two my most important takeaways ...
June 28, 2014
In the 2014 offseason, the San Francisco 49ers re-signed a 1,000-yard wide receiver, drafted a highly rated center prospect and traded for an offensive threat from the AFC East. All three ...
June 21, 2014
The San Francisco 49ers have legitimate Super Bowl aspirations for the 2014 season, but that doesn't mean they're flawless.  Their flaws aren't as glaring as some of the NFL's bottom-feeders, but ...
July 13, 2013
The San Francisco 49ers have a daunting 2013 schedule.  With the seventh-toughest slate of games in the NFL (based on 2012 win percentage of opponents), the 49ers will have their work cut out ...
March 20, 2013
As Colin Kaepernick was becoming the NFL's next big thing in the 2012-13 NFL playoffs, Anquan Boldin was reminding us how dominant he can still be.The wide receiver had 36 ...
March 13, 2013
It's official. The Alex Smith era has come to a close in San Francisco.The Kansas City Chiefs and 49ers completed a trade on Tuesday that sent two draft picks to ...
January 13, 2013
Colin Kaepernick wasn't supposed to look that good in his first playoff game.The second-year quarterback rushed for 181 yards and two touchdowns, passed for 263 and two more scores as the ...
November 21, 2012
Should Colin Kaepernick or Alex Smith start at quarterback for the San Francisco 49ers against the New Orleans Saints on Sunday?I'm not even sure Jim Harbaugh knows the answer to ...
October 3, 2012
Sometimes, I feel like we all undervalue what Alex Smith means to the San Francisco 49ers.He's certainly not a top-five quarterback in the NFL, and he had a mediocre game ...