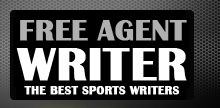 Yankee Addicts
Categories
Featured Sponsors
News published by
July 16, 2013
The Pittsburgh Steelers will begin training camp at the end of the month, and we can finally see the final roster come together. Although any of us can predict about 90 ...
June 18, 2013
The Pittsburgh Steelers are one of the most storied franchises in the NFL and have been around since they were first known as the Pirates in 1933. Personally, I started ...
June 14, 2013
Obviously, if a team continuously turns the football over, it won't be a surprise when they don't win many games. For whatever reason in 2012, the Pittsburgh Steelers just could ...
May 19, 2013
Any team in the NFL can get a good player in the first round of the draft, and the really good franchises are the ones who consistently find steals later ...
March 16, 2013
The Pittsburgh Steelers have had a somewhat eventful offseason, mostly due to players they have lost either from releasing them or to free agency. To this point, the Steelers have ...
March 9, 2013
For most of the offseason, it has been pretty much an afterthought that the Pittsburgh Steelers would cut ties with veteran offensive lineman Willie Colon.Although Colon made a nice transition ...
February 16, 2013
It seems like every year we all speculate that the Pittsburgh Steelers are going to trade down in the first round and accumulate more picks. It never happens, though. In ...
December 30, 2012
The Pittsburgh Steelers 2012 season is coming to a disappointing end, regardless of whether they beat the Cleveland Browns in Week 17 or not. For all the talk about the ...
December 16, 2012
After watching the Cincinnati Bengals beat the Philadelphia Eagles on Thursday Night Football,  the Pittsburgh Steelers sit a half game back of the last playoff spot. The Steelers' playoff hopes ...
July 28, 2012
It is great to have actual football to talk about again with the Pittsburgh Steelers starting training camp this week. Every year, it is exciting to watch the rookies and ...