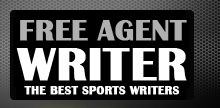 Yankee Addicts
Categories
Featured Sponsors
News published by
August 1, 2010
The Indianapolis Colts have started training camp today. I would like to point out some nice veterans on the roster. Some of them still have some darn good stuff left in ...
July 30, 2010
Hey guys, welcome to today's National Football League Rumor Mill! We've got some good rumors today, so you don't want to miss any of them. Will Vincent Jackson get traded? Will he ...
July 20, 2010
Yesterday, NFL.com columnist Michael Lombardi waited until the last paragraph to say something sad…or stupid, actually. Lombardi made up a rumor stating Indianapolis Colts' safety Bob Sanders will ...
July 20, 2010
Cleveland Browns' quarterback, Derek Anderson, was entering a hopeful year for the team in the 2007-08 season. He did have a great one. Anderson threw for 3,787 yards, 29 touchdowns and 19 ...
July 18, 2010
Reggie Wayne and Robert Mathis of the Indianapolis Colts still haven't gotten their contracts yet. And they want them badly. And according to Bill Polian, with two years left ...
June 18, 2010
Hello folks and welcome to today's rumor mill for the National Football League. We will be discussing some pretty good rumors, so you might want to stick around. There will be ...
June 18, 2010
Many people are already starting to put up depth charts for their team. I decided it's my turn. The Indianapolis Colts, as usual, haven't made big headlines in the off-season. ...
June 17, 2010
Like the AFC West, the picture above shows running backs instead. Everything looks right in their place. For the Jonathan Stewart one, they should put him and DeAngelo Williams. Not ...
June 16, 2010
Welcome to today's rumor mill for the National Football League. We will be talking about some good rumors for y'all, so get ready. Will Albert Hanyesworth, currently defensive tackle for the ...
June 15, 2010
I have finally completed one conference in my NFL Division Predictions series. Now we head over to the NFC conference. I start with the NFC East division, compiled with the ...