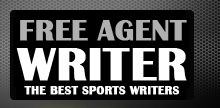 Yankee Addicts
Categories
Featured Sponsors
News published by
June 13, 2010
Back in April 2009, the Green Bay Packers offered Greg Paulus a tryout with the team. Then on May 14, 2009, Paulus announced that he would play college football ...
June 12, 2010
Hello and welcome to today's NFL Rumor Mill! Not much going on today but we can still give out some rumors for y'all. Will Terrell Owens finally find a job? Could ...
June 12, 2010
NFL Tight Ends. Yes, they are great, aren't they? Some can be used as just blockers, some as just receiving targets, and some are used often for both. Some are ...
June 12, 2010
As you have noticed this picture is outdated and I found it on Google Images by typing in AFC North like I did for the past articles in my division ...
June 12, 2010
Today's NFL Rumor Mill is pretty good. We have some great rumors up, so you'll really want to see this. Will Flozell Adams go to a team soon? Are the Oakland ...
June 11, 2010
Unlike the AFC East predictions picture, this one is actually up-to-date. Peyton Manning is still the quarterback in Indianapolis, as is David Garrard in Jacksonville, Matt Schaub in Houston, and ...
June 7, 2010
Not many exciting or interesting things happen at organized team activities, otherwise known as OTAs, in the National Football League. Today marked the first interesting thing, though. A fight happened during the ...
June 7, 2010
Jake Delhomme was a huge part of the Carolina Panthers when he arrived in 2003, after playing with the New Orleans Saints and the Arena Football League. He ...
June 6, 2010
This list may actually surprise you. With training camp here and the pre-season after that, the 2010-11 NFL season is just getting closer and closer as we count down the ...
June 6, 2010
There are more rumors churning out of the National Football League rumor mill. Will LenDale White team up with former teammate Reggie Bush with the New Orleans Saints? Or will ...