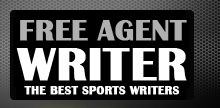 Yankee Addicts
Categories
Featured Sponsors
News published by
June 5, 2010
In my opinion, I think the Raiders had one of the best off-season they have ever had in years. Probably all Raiders' fans can agree with that. The JaMarcus Russell saga is ...
June 5, 2010
The year of 1985 was the year former New York Jets great Joe Namath was inducted into the Hall of Fame. But did Joe Namath truly deserve it? Did he really ...
May 31, 2010
When the Buffalo Bills brought in Terrell Owens last year, second-round draft pick James Hardy literally saw no playing time. He had only one catch for nine yards in a 31-3 ...
May 31, 2010
The Indianapolis Colts had a great run during the 2009-10 NFL season. They had a 14-0 run and took a rest during the last two games of the season, which ...
May 30, 2010
Some more NFL rumors going around the mill here. We heard about LenDale White being released by the Seattle Seahawks, right? but it doesn't mean he doesn't have any teams ...
May 28, 2010
The Indianapolis Colts are looking to rock on the defensive side of the ball this season. We all know how they work and roll on the offense. Now the defense looks ...
May 26, 2010
We've seen a lot of players in the AFC South demanding new contracts lately. First, we saw Tennessee Titans running back Chris Johnson. Then it was Houston Texans' wide receiver Andre ...
May 22, 2010
During the 2006-07 season, Joseph Addai had a season any rookie would dream of. He ran for 1,081 yards, seven touchdowns, and had 4.7 yards per carry. This also included a game ...
May 12, 2010
More rumors around the mill in the National Football League here, folks. So let's get to it, okay? Could Terrell Owens finally find suitors for him? Find out in the ...
May 12, 2010
Some rumors today around the mill here in the National Football League. Brian Westbrook has found some suitors and can pair up with a former teammate. Antonio Pierce may finally get ...