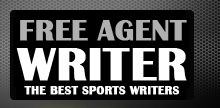 Yankee Addicts
Categories
Featured Sponsors
News published by
February 16, 2011
Let me start off this article by saying I wish Brandon Banks a speedy recovery and hope he's on his feet soon.With that said I think he needs to be ...
February 7, 2011
Jack s**t is what that means. During Super Bowl Week Washington Redskins owner Daniel Snyder was in Dallas to promote something I'm sure (Six Flags?) and was surprisingly on both Washington ...
February 1, 2011
In the minds of the Washington Redskins faithful there is one person that deserves the full forces of the fans' fury for this team's ineptitude for the past decade-plus. That man ...
January 25, 2011
With Chris Mortenson's latest report that Cincinnati Bengals quarterback Carson Palmer wanting a trade fans and the media were quick to jump aboard the "Should the Redskins trade for him" bandwagon. There ...
January 24, 2011
As I write this article, there has been no diagnosis on the health of Chicago Bears quarterback Jay Cutler.  Once one is released, the people berating him might be proven ...
January 21, 2011
It's only January, but that hasn't stopped many here on Bleacher Report as well as the Guru of the Draft himself, Mel Kiper Jr., from making predictions on what every ...
January 13, 2011
On his sports talk show on the Sports Journey Broadcast Network, Washington Redskins wide receiver Anthony Armstrong expressed his want to keep quarterback Donovan McNabb on the roster. "Bring my man ...
January 11, 2011
Since last year's Super Bowl, Peyton Manning has been on quite the roller coaster ride. He's had highs, like trouncing his brother's team on Sunday Night Football and lows like losses ...
December 28, 2010
With the win over the Jacksonville Jaguars, the Washington Redskins moved from having a top-five draft pick to falling out of the top ten and may have possibly missed out ...
December 16, 2010
Yesterday I took a hardy look at the Washington Redskins offense and went over what I'd do with that squad if I were Bruce Allen. Today I'm going to do the ...