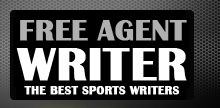 Yankee Addicts
Categories
Featured Sponsors
News published by
August 7, 2011
The Washington Redskins are in the midst of a rebuilding process. With the rebuilding there are many positions that are up for grabs.  Sure there are folks who are considered the ...
July 23, 2011
If there is one thing that most Super Bowl Champions have in common it's that they have a dominate offensive line.The ability to protect the quarterback and open up large ...
April 8, 2011
This morning when I opened up my email, I had a little surprise waiting for me. It was from EA Sports Litigation and it was informing of a class action suit ...
March 23, 2011
Yesterday while I was driving home from work I was listening to The LaVar Arrington Show with Chad Dukes on 106.7 The Fan in Washington D.C.They were discussing the Philadelphia ...
March 22, 2011
Carson Palmer wants out of Cincinnati, and by all indications (though not confirmed), the Redskins want Donovan McNabb out of Washington. Here's a thought, why not swap quarterbacks? I know it's not ...
March 15, 2011
Well, here we are in the midst of Armageddon.  The collective bargaining between the NFL owners and the NFLPA have broken down and the union has decertified and now players ...
March 14, 2011
The big gun in the arsenal that used to be the NFLPA (before they decertified on Friday) was that the NFL and it's 32 teams violate the United States antitrust ...
March 11, 2011
As we approach the new extended deadline for the NFL and NFL Players Association (NFLPA) to agree on a new collective bargaining agreement (CBA) I fall under the pessimistic side ...
February 23, 2011
Listen, being an NFL general manager is not an easy job.  If it were, you wouldn't see as many draft and free agent busts in the NFL. It's tough, and one ...
February 16, 2011
Yesterday when teams like the Philadelphia Eagles were placing franchise tags on players like Michael Vick, cornerback Carlos Rogers of the Washington Redskins was asked if he had heard from ...