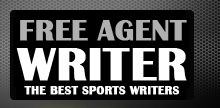 Yankee Addicts
Categories
Featured Sponsors
News published by
January 7, 2011
83% of the teams in this postseason have the look of a second-round loser or what you might find in a Nevada truck stop bathroom. Just how it's always been. Just ...
November 2, 2010
This makes no sense. None. Waiving Randy Moss is a synonym for "the season is over." That is what Vikings head coach Brad Childress is saying at 2-5, with the ...
October 12, 2010
Percy Harvin, the seemingly forgotten man in the Minnesota offense now, ran a deep cross route on 3rd-and-19, caught a bullet from Brett, and ran untouched twenty yards into the ...
October 12, 2010
Brett Favre threw a perfect 37-yard rainbow touchdown down the right sideline to Randy Moss that cut the Jets lead to 12-7. With one pass, the complexion of the game ...
October 12, 2010
After a dominant display by Ray Edwards and the Vikings defense, forcing the Jets back ten yards and a three-and-out, the ball slips out of Brett Favre's hand on the ...
October 11, 2010
There is a lot going on tonight. Randy Moss is back in purple, Brett Favre has some 'splaining to do, and Rex Ryan is Rex Ryan. Which means he is ...
October 11, 2010
He's back.In seven years with the Minnesota Vikings, Randy Moss had 574 receptions, 9,142 yards, and 90 touchdowns. That averages out to 82 catches, 1,306 yards, and 13 touchdowns per ...
October 1, 2010
NFL games are decided by  many factors. Schemes, turnovers, injuries—even penalties. Who knows what will happen.But most of all, they are decided by players and matchups. Is this receiver just too tall for ...
September 16, 2010
No, Calvin Johnson shouldn't actually be shot.  Just beaten with a bat or some form of lead pipe, I guess.  Tire iron, maybe. Or some sort of 2x4 with nails, also ...
September 9, 2010
The Minnesota Vikings are coming off a 12-4 season, a NFC Championship game appearance, and are returning basically every key player—especially one key player.  They should be primed for another run.And ...