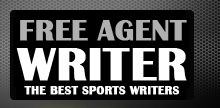 Yankee Addicts
Categories
Featured Sponsors
News published by
December 3, 2013
We've all been there. If you play fantasy football, you've probably spent at least one Friday afternoon in the office, pouring through spreadsheets and charts that look like they could ...
July 31, 2013
The Seattle Seahawks made one of the biggest moves of the offseason in acquiring Percy Harvin from the Minnesota Vikings, but it appears the versatile offensive weapon will be on ...
July 30, 2013
The Jacksonville Jaguars picked a bad year to be a bad football team. After finishing 2-14 a season ago, Jacksonville entered the 2013 NFL draft with the No. 2 overall pick ...
July 23, 2013
The term "on paper" only goes so far when examining the prospects of an NFL franchise. In the case of the Tampa Bay Buccaneers, that holds especially true. After a disappointing ...
July 17, 2013
In order to keep pace with the San Francisco 49ers and Seattle Seahawks in the NFC West, St. Louis Rams general manager Les Snead had to make sure he made ...
July 9, 2013
The NFL season never really ends, but there aren't always a lot of huge stories to talk about, either. Invariably, one of the biggest talking points is examining the teams ...
July 5, 2013
The Atlanta Falcons made some big changes this offseason, but if general manager Thomas Dimitroff's recent history of success is any indication, there's no reason to expect those changes to ...
June 25, 2013
The Minnesota Vikings went 10-6 and defeated the Green Bay Packers in Week 17 to earn a playoff berth last season. They drafted well. They made some smart offseason signings. ...
June 18, 2013
In the NFL, building a winning franchise starts with the draft and continues through several years of smart free-agent acquisitions and salary cap management. The Miami Dolphins have accelerated the ...
June 11, 2013
After a disappointing 2-3 start to the 2012 season, the Denver Broncos found their rhythm and completed the regular-season slate on an 11-0 tear, staring down a first-round bye and ...