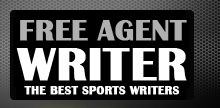 Yankee Addicts
Categories
Featured Sponsors
News published by
January 17, 2017
The NFL draft's deadline for early declarations is officially here. Though underclassmen have to report to the NFL by January 16, the official list of names won't be produced by ...
January 13, 2017
In the Wild Card Round, every favorite covered. In what must have been a slaughtering of Vegas books by the public, we hope to bounce back during the divisional round ...
January 11, 2017
Outside of quarterback, the next most important positions in the NFL are line-of-scrimmage defenders. If you look at the highest average salaries in the league, the top 32 contracts in ...
January 9, 2017
With the Wild Card Round of the NFL playoffs in the books, only eight teams are alive. That means 24 squads league-wide have already flipped the page to the offseason. With ...
January 6, 2017
We're closing in on .500 after a positive Week 17 last week. With only four games to pick from this week, we hope to continue the momentum moving forward. Unfortunately, three ...
January 4, 2017
In the 2014, 2015 and 2016 NFL drafts, a total of zero Power Five conference senior quarterbacks were selected in the first two rounds. For the most part, if you're ...
December 30, 2016
If we bat 1.000 this week, we can finish over .500 for the year in our point-spread selections for the season. In what has been a poor season for Vegas ...
December 28, 2016
Heading into Week 17, 10 of the 12 NFL playoff teams are locked in. Unless you're a fan of the Green Bay Packers, Detroit Lions, Washington Redskins or an extremely ...
December 27, 2016
If you followed Week 16 action live Saturday, you know that at least for a couple of hours, the projected first overall pick exchanged hands. The Cleveland Browns, who started ...
December 22, 2016
Half of the NFL has virtually no shot at making it into the postseason heading into the final two weeks of the year. Now, well into the winter, many are ...