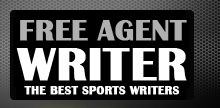 Yankee Addicts
Categories
Featured Sponsors
News published by
December 19, 2016
Some of the lower-tier bowl games already kicked off this weekend, but we still have premier matchups in college football stretching through Jan. 2, not including the national championship game. ...
December 16, 2016
When the Baltimore Ravens decided to make it a one-score game against the New England Patriots on Monday Night Football, our fate was sealed. That push made us go .500 ...
December 14, 2016
Several NFL rookies this year have been absolute factors in their teams winning games at various points in the season. At times, we set the bar too high for rookie ...
December 12, 2016
As we head into Week 15 of the NFL season, six teams are officially out of the playoff hunt according to NFL.com, while 12 squads have an impossible path to ...
December 9, 2016
Week 13 was our nightmare week, as we were on the wrong side of several very close lines, a Buffalo Bills collapse against the Oakland Raiders and a surprise benching ...
December 8, 2016
As we enter the winter, many NFL fans turn their attention from on-field play to the potential of a franchise-saving offseason. As we've seen over the years, in the free ...
December 5, 2016
Heading into Monday Night Football this week, 18 teams already have accumulated six or more losses, which, in a league where 10-6 squads miss the playoffs, is concerning with four ...
December 2, 2016
After another solid week of plays, we're closing in on making up for our first few slow weeks to the season. With five weeks of NFL regular-season play left, there's plenty ...
November 30, 2016
The AFC is reshuffling at a drastic rate. If it's not the No. 1 seed New England Patriots, it's the Miami Dolphins, who are on a six-game winning streak, or ...
November 28, 2016
With 14 teams already posting at least six losses in the first 12 weeks of the season, many fans are turning their attention to the NFL draft. Skill players are ...