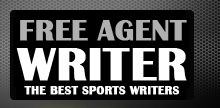 Yankee Addicts
Categories
Featured Sponsors
News published by
December 11, 2015
Richard Sherman or Waka Flocka Flame?To the dismay—or perhaps just fleeting disappointment—of three smiling Seattle airport employees, it was the latter.The group stopped the rapper in the foyer and asked to ...
November 17, 2015
When Bill Simmons sat down with Barack Obama for an interview published by GQ on Tuesday, he compared the president's temperament and ability to focus despite whatever might be going on around ...
November 10, 2015
It was the Cam Newton touchdown ball that almost didn't make it to the stands, thanks to Green Bay Packers linebacker Julius Peppers, who held and threw it away from the ...
November 6, 2015
Stone Cold Steve Austin has found the answer to the Dallas Cowboys' temporary quarterback woes: Stone Cold Steve Austin.That's right. The 50-year-old retired wrestler told the Dallas Morning News he could ...
November 6, 2015
In case you didn't already know, James Harrison is more fit at 37 years old than you likely ever were, are or will be because there are no off days ...
October 10, 2015
Antonio Cromartie was asked to name the three best receivers in the NFL during his Friday appearance on SportsNation—he named Dez Bryant, Antonio Brown and Calvin Johnson.You might have taken ...
September 22, 2015
Ray Lewis apparently missed syllabus day.The former NFL linebacker-turned-ESPN contributor couldn't resist the itch to check his phone during Monday Night Countdown, scrolling through it for 20 full and shameless ...
September 19, 2015
Some people are natural, awe-inspiring communicators—and Peyton Manning is one of those people.After the Denver Broncos' insane Thursday night win over the Kansas City Chiefs, the veteran quarterback stood before ...
September 8, 2015
Drew Brees: Super Bowl XLIV champion, adoring husband and father, upstanding citizen, Mardi Gras king and...crocodile wrestler?Yep. The New Orleans Saints quarterback got down and dirty on Monday's episode of ...
August 28, 2015
For Andy Reid, it's hard to beat a good cheeseburger. The Kansas City Chiefs coach explained to reporters during organized team activities last summer just how hard it was (via Fox ...