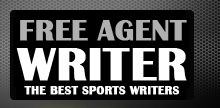 Yankee Addicts
Categories
Featured Sponsors
News published by
November 13, 2010
The Dallas Cowboys, a team that began the season with championship aspirations, have had as disappointing a season as any team in recent memory.  Their 1-7 record, injured quarterback, and ...
November 10, 2010
The Miami Dolphins believed that their quarterback of the future, Chad Henne, and big offseason pickup, Brandon Marshall, made them contenders.  Fast forward a few weeks and the Dolphins are sitting ...
October 29, 2010
In short, there is none. The Dallas Cowboys hadn't been particularly impressive with Romo in the lineup, stumbling to a 1-4 record.  But the Cowboys' outlook got quite a bit more ...
October 27, 2010
The difference between a win and a loss in fantasy often comes down to last minute pickups. Many of the biggest performers from last season (Chris Johnson, Brett Favre and ...
October 27, 2010
In the NFL, especially in the NFC, parity reigns.The defending Super Bowl champs were humbled at home by the perennial cellar dweller Cleveland Browns last week. The Raiders, generally incapable ...
October 20, 2010
Fantasy Football teams have been decimated by injury as the NFL reaches mid-season and looks to protect player safety.  I've been unfortunate enough to lose Jermichael Finley and Reggie Bush ...
October 20, 2010
With expected contenders like the Green Bay Packers, Dallas Cowboys, Minnesota Vikings, and New Orleans Saints all struggling, all bets are off each and every week in the NFL.  Jacksonville, ...
October 13, 2010
The Philadelphia Eagles traded Mike Bell today for Cleveland Browns running back Jerome Harrison. Harrison has been unhappy with his role with the Browns thus far this season. Despite being in ...
October 6, 2010
It's official.  Randy Moss, a future Hall of Fame receiver has been traded away from the New England Patriots to the Minnesota Vikings, the franchise that drafted him.  His departure ...