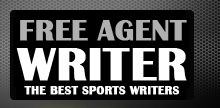 Yankee Addicts
Categories
Featured Sponsors
News published by
May 1, 2011
The Baltimore Ravens, fresh off a disappointing AFC Divisional game loss to the division rival Pittsburgh Steelers, went into 2011's NFL Draft with high hopes of getting offensive ...
April 13, 2011
I've been getting into NFL draft scouting since 2005. Each offseason I do my best to evaluate as many athletes as possible, and as I do my evaluations, I can't ...
March 7, 2011
As we continue to inch closer and closer to the 2011 NFL Draft, we want to take a look back at some of the worst draft picks of the last ...
February 17, 2011
It's February, and that means we're getting closer and closer to the 2011 NFL Draft. The Senior Bowl is out of the way, and the next big happening is the ...
January 21, 2011
Is A.J. Green truly a fit for the Cleveland Browns at the sixth overall pick? That is the question. The Browns have lacked a true playmaking wide receiver for years. Despite ...
December 9, 2010
In fantasy football there are always sleepers, and that doesn't stop in the fantasy football playoffs. We're always looking for that diamond in the rough that's hiding in the ...
December 5, 2010
Week 13 is upon us, and we're closing in on the end of the NFL season. It's time for the rookies of the NFL to make their last minute ...
November 29, 2010
It's time to start wrapping up Week 12 in the NFL. Fantasy football owners are getting nervous and excited all at the same time. Many are competing for that final ...
November 28, 2010
Despite being a few games into Week 12, we're still taking a look at the rookies for the upcoming weeks. Rookie of the Year voting is a big deal in the ...
November 19, 2010
The Browns and the Jets played quite the entertaining game on Sunday, November 14th. With 17 seconds left in overtime, Mark Sanchez hooked up with Santonio Holmes to score the ...