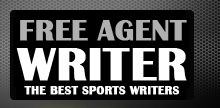 Yankee Addicts
Categories
Featured Sponsors
News published by
November 8, 2010
Fantasy football in Week 9 is coming to a close, and yet again, we have a week with a few big surprises. While this week hasn't been as ...
October 26, 2010
With less than 13 minutes to play in the Monday Night Football game against the New York Giants, Tony Romo left the game with an undisclosed shoulder injury. We later ...
October 26, 2010
One could say that Sunday is the greatest day of the week. Grab an ice cold beer, watch some NFL football, and click refresh on your computer browser around 50 times ...
October 19, 2010
Fantasy Football for Week 6 finished with another slew of surprises. We finished another Sunday in the NFL after Week 6 is in the books. Sunday was a ...
October 13, 2010
We're still half a week away from Week Six in fantasy football, but with injuries and bye weeks, we here at NFL Soup get the feeling fantasy owners ...
October 12, 2010
Sundays are always exciting for football and fantasy football fans. Whether it's a big game, or if you're watching two winless teams duke it out for their first win. There ...
October 6, 2010
After another exciting week of fantasy football action, we take another close look at every game and all of the fantasy matchups. Week four gave us a lot to think ...
October 6, 2010
We're back again, here at NFL Soup, to talk about the top Week Four fantasy football surprises. Week Four was all about defense, as there were quite a ...
September 28, 2010
We got through another Sunday, which again, was full of surprises. Many of us expected a shootout between the Cowboys and Texans, and it ended up being just ...
September 27, 2010
One of the most entertaining parts of fantasy football is finding the free agent gems. There are always a few players who start the season hot, and are owned in ...