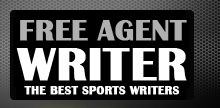 Yankee Addicts
Categories
Featured Sponsors
News published by
October 30, 2011
JaMarcus Russell was recently interviewed by a "CSN" drone about his experience in the NFL with the Oakland Raiders. In this interview he did not rule out a possible return ...
October 2, 2010
I can't believe how many Raider fans I hear talking about how Bruce Gradkowski gives the Raiders a "chance to win" as if this is some kind of moral victory. ...
September 29, 2010
Michael Vick reminds me a lot of the great No. 12, Randall Cunningham, for the '90s Philadelphia Eagles, minus the flat top, of course. And the bulky pads of yesteryear ...
September 25, 2010
The convenience of Bruce Gradkowski's ascension to the top spot in Oakland in unison with the potential return of the Raiders best offensive player does not surprise me one bit ...
September 15, 2010
Cutting Trevor Scott would allow Players like Thomas Howard and Matt Shaunessy more playing time. Raider Nation is torn on whether or not Thomas Howard can return to his 2007 ...
September 12, 2010
Tom Cable's Oakland Raider's were pathetic in Tennessee on opening day. Basic Cable has been excused for his incapacity at the expense of the team and Raider Nation by scapegoating ...
September 3, 2010
Raiders fans have all kind of excuses as to why Nick Miller and JLH should not be a part of the regular receiving rotation. "Louis Murphy (team leader in drops) is ...
August 31, 2010
Lost in the mix of hypemen such as Bruce Gradkowski, Darren McFadden and Chaz Schilens is the Raiders statistically best Wide Receiver, fourth year pro Johnnie Lee Higgins. In his entire ...
August 14, 2010
Many NFL fans are conditioned to believe whatever comes from various media outlets. They'll have you to believe that certain players shouldn't play because of inane reasons such as ...
August 14, 2010
When Tom Cable arrived in Oakland three seasons ago, he was touted as an O-line Guru and was expected to bring some sort of stability and consistency to this ...