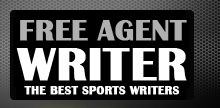 Yankee Addicts
Categories
Featured Sponsors
News published by
July 29, 2010
Rolando McClain signed his rookie contract in time for the start of Raiders 2010 training camp in Napa, CA. My question is; for how much? And does it really matter? Athletes ...
July 21, 2010
We could go on and on about the talent level of the Oakland Raiders from year to year, but somehow that "talent" never materializes into victories. Personally, I think that Chris ...
July 19, 2010
I have noticed a disturbing trend amongst Raider Nation. Raider fans have a tendency to project players based on their potential. What "might," "should," or "could" happen. This leads me ...
July 16, 2010
Chaz Schilens could be considered a bust based on failures to meet the expectations of Raider Nation. Last year, I hopped on the fantasy bandwagon and stashed him away ...
June 9, 2010
One of the most intriguing aspects of Raider Nation is their love/hate relationship with the Raiders owner Allen Davis. When the team has success Al is rarely brought up ...
June 4, 2010
I won't lie. It irritates me greatly to hear the media attempt to condense a 50 year Raider legacy of dominance into seven miserable years. America's neglect for history has ...
June 2, 2010
The question of who is the leader of the Oakland Raiders can vary in many ways. Some would suggest that the Quarterback is the anointed leader of a team, some ...
June 1, 2010
Statistically speaking, Johnnie Lee Higgins is the Best receiver on the Oakland Raider roster today. We all remember at the end of the 2008 season how the media would sarcastically ...
May 29, 2010
The Oakland Raider have not had a good coach since John Gruden patrolled the sidelines, scrunching his face at improper conduct on the field. Many Oakland Raider fans do not understand ...
May 24, 2010
Many NFL fans are brainwashed into believing that the Quarterback position is the most important ingredient to a championship team, despite players like Ty Law, Darren Sharper, Ray Lewis, Dwight ...