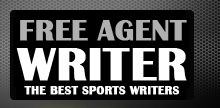 Yankee Addicts
Categories
Featured Sponsors
News published by
June 23, 2010
Former Giants great LT was indicted Wednesday for having sex with a teenage prostitute. The Hall of Famer was charged with rape, engaging in a criminal sexual act and sexual abuse ...
May 26, 2010
What's next? Scandal-plagued Steelers quarterback Ben Roethlisberger has been booted from a youth football camp in Pittsburgh—with Steelers coach Mike Tomlin taking over as his last-minute replacement. Formerly known as the Ben ...
May 20, 2010
 Former Jet wide receiver Santana Moss reportedly received human growth hormone from Canadian Dr. Anthony Galea, who was charged this week in Buffalo. The Washington Post reports that ...
May 20, 2010
Daunte Culpepper  is about to be employed as a professional football player once again. It won't be with an NFL team, though. According to ESPN's Adam Schefter, it will be with ...
May 17, 2010
Darrelle Revis, one of a handful of young Jets who are in line for a pay raise sometime soon, has asked the team for a contract extension that will ...
May 6, 2010
The Oakland Raiders released former No. 1 overall pick JaMarcus Russell on Thursday, ending a three-year tenure marked by his high salary and unproductive play on the field. JaMarcus Russell, ...
May 6, 2010
 Former New York Giants great  Lawrence Taylor was arrested for rape in New York, CBS 2 has learned. Details surrounding the rape have not yet been released other than the ...
May 5, 2010
Cornerback Adam "Pacman" Jones went through a second workout with the the Bengals, one of a handful of teams he's been contact with about a possible return to the ...
April 29, 2010
The Eagles have signed quarterback Kevin Kolb to a one-year contract extension that could keep him in Philadephia through the 2011 season. Eagles general  manager Howie Roseman made ...
April 29, 2010
The Jets traded their fourth (124th overall) and sixth-round (198th overall) picks to the Carolina Panthers to move up 12 spots and select McKnight, who carved out a solid career ...