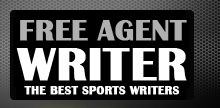 Yankee Addicts
Categories
Featured Sponsors
News published by
July 31, 2010
Terrell Owens is an interesting character to say the least. With his reality show past and wild reputation, The Cincinnati Bengals will be receiving more attention and more drama this ...
July 29, 2010
Colt McCoy was drafted by the Cleveland Browns this year and will now be bringing his winning attitude and ability to their team. With his help, the Browns could change ...
July 25, 2010
The Heisman Trust is still deciding whether or not to take Reggie Bush's Heisman title away for his alleged acceptance of illegal benefits while playing college football. Even though this ...
July 16, 2010
All summer, the Cleveland Browns have been training and preparing for the upcoming season. After all of their preparation, the Browns are ready to bring home a couple of wins ...
June 3, 2010
            The Cleveland Browns are gearing up for the upcoming season in organized team activities this spring and summer.  With last season behind them and the addition of several new ...
June 1, 2010
The Cleveland Browns picked wide receiver Brian Robiskie in the early rounds of the 2009 NFL Draft at 36th overall. Even though he didn't see much playing time last season for ...