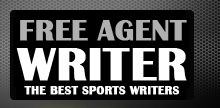 Yankee Addicts
Categories
Featured Sponsors
News published by
January 1, 2013
You could easily make a case that there are five worthy recipients of the award. In most seasons, each of them would win the award if they ...
December 16, 2012
At this point in the season, fantasy owners need to win just one game to advance to the championship. If they lose, however, the nine-month wait until ...
December 15, 2012
From Weeks 2 to 11, Cincinnati Bengals receiver A.J. Green scored a touchdown, or two, in every game. Although he had a three-game scoring drought going into the Thursday Night ...
December 1, 2012
In his first matchup against the Saints, the second-most generous fantasy defense for running backs, Atlanta's Michael "The Burner" Turner struggled mightily with his worst performance of ...
November 28, 2012
Eagles rookie running back Bryce Brown delivered for fantasy owners that picked him up off waivers last week. Against the Panthers on Monday Night Football, Brown, the team's seventh-round pick, ...
November 24, 2012
If you started any offensive players from the Thanksgiving Day games, you were likely thankful for the results. After all, five of the six teams that played on Thursday scored ...
October 17, 2012
Washington's Robert Griffin III was one of two quarterbacks to finish with more than 30 fantasy points in Week 6. In fact, his 34 points were a ...
October 13, 2012
On a weekly basis, there are many factors that go into starting or sitting a player. Matchups, league formats, bye weeks and injuries—all weigh into those decisions. ...
October 9, 2012
One of the most-added wide receivers from the waiver wire last week was Green Bay's James Jones. Coming off a two-touchdown performance in Week 4, many expected Jones to ...
October 6, 2012
One of the most frustrating players to own in fantasy football these days is Tennessee running back Chris Johnson. If you drafted CJ2K this year, you needed to spend a ...