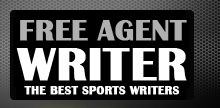 Yankee Addicts
Categories
Featured Sponsors
News published by
October 3, 2012
Packers receiver James Jones had some really productive weeks last year and several not-so-productive weeks. This year is shaping up to be similar. As an example, Jones had two receptions ...
September 30, 2012
Most fantasy football leagues end their season with the championship in Week 16. That means, more than 20 percent (49 games) of the 240 regular-season games from Weeks 1 ...
September 26, 2012
Going into the season, I expected Lions running back Mikel Leshoure to outproduce backfield mate Kevin Smith, even though Leshoure had two big things working against him. Not only ...
September 8, 2012
For the first time in more than 60 years, there will be five rookie quarterbacks starting their team's season opener. From the time they were drafted in late April, it ...
August 29, 2012
A few years ago (2009), Tennessee running back Chris Johnson became only the fifth player in NFL history to rush for 2,000-plus yards in a single season. In ...
May 12, 2012
With the NFL draft behind us, we continue to update our 2012 fantasy football rankings with running backs next up. Although this is our third update of the ...
April 7, 2012
When you begin to discuss fantasy tight ends, the conversation has to start with a pair of second-year players that had the two best years anyone has ever ...
October 23, 2011
With most fantasy leagues beginning their postseason in Week 14, we are at the midpoint of the regular season in most fantasy leagues. In addition, we are at that point ...
September 25, 2011
Entering the 2011 season, the most likely scenario for Carolina's offense was that they would rely heavily on their rushing attack to ease the NFL transition for their rookie signal-caller. ...
December 18, 2010
You're reading this post for one of two reasons: (1) you're either in the playoffs of your fantasy football league(s) or (2) you are a huge fan of my writing ...