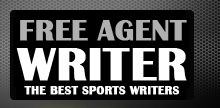 Yankee Addicts
Categories
Featured Sponsors
News published by
May 10, 2013
The NFL draft is over and for some Green Bay Packers veterans, the heat is on.After making 11 selections in April, general manager Ted Thompson has filled many of the ...
September 19, 2012
Steve Sabol, the president of NFL Films, passed away Tuesday from brain cancer.  He was 69 years old.I never met Sabol, although I have always wanted to. Now, unfortunately, that's ...
January 1, 2011
Even if Tim Tebow can't carry the Denver Broncos to victory Sunday over the San Diego Chargers in the season finale, he has given all of Broncos Country one thing ...
October 14, 2010
It wasn't quite Greg Jennings' Keyshawn Johnson moment, but it was close. Not to mention Jennings had a point. This week Jennings made it clear to his coaches he was frustrated with ...
October 9, 2010
Run, run as fast as you can. Or even a slight jog would do. Despite the NFL's worst running game, the Denver Broncos currently sit at 2-2 tied for second in ...
October 2, 2010
Color me surprised. Two months ago, despite reports of a solid if not spectacular training camp by current starting quarterback Kyle Orton, all the buzz among Broncos' fans was about Tim ...
October 2, 2010
Oy. That single word sums up the entire fandom of the Green Bay Packers following their 20-17 sickening loss to the Chicago Bears this past Monday, dropping their record to 2-1 ...
September 23, 2010
Now THAT was more like it. Despite getting off to a sluggish start in the first half, and after a fiery speech by a supposedly red-faced Mike McCarthy, the Green Bay ...
August 9, 2010
Coming into the 2006 NFL Draft, linebacker A.J. Hawk was called by many draft experts the "surest thing" in that year's draft. A "sure thing," as in someone who will undoubtedly ...
August 4, 2010
Call it a gut instinct if you will—That, along with some flashes he has shown thus far into training camp. For whatever reason, something inside of my body is telling me ...