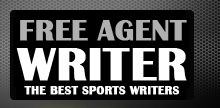 Yankee Addicts
Categories
Featured Sponsors
News published by
January 12, 2011
Guess what, football-crazed America? A team with an (8-9) NFL record is playing in the NFC Divisional Playoffs Game.  In a revolting playoff development, "Who Dat?" families fell victim to the first-round 12th ...
January 11, 2011
"And the silken sad uncertain rustling of each purple curtain thrilled me—filled me with fantastic terrors never felt before."  That's from Baltimore's Edgar Allen Poe.  Here's more from his famous ...
January 7, 2011
Which shade of green—the Green Bay Packers or the Philadelphia Eagles—will move closer to winning all the money?  Eagles green is closest to the color of money.  I'll let you know ...
January 6, 2011
How can the gimpy and grumpy New York Jets do anything to stop the Indianapolis Colts and Peyton Manning?  For one, the Jets (11—5) should have shutdown corner, Darrelle Revis "Island" ...
January 5, 2011
"Never underestimate the heart of a champion," former Houston Rockets coach Rudy Tomjanovich once said. Those words ring true for me in almost every playoff series.  Due to the heart factor, in ...
December 31, 2010
Will the Rams rookie do the ridiculous and win the NFC West Division on the road in hostile Seattle?  Or will he be intimidated and come down with a case ...
October 25, 2010
Born 14 days apart, they are about the same size and have overcome similar adversities.  The two 24-year-olds were born in August, and they both stand close to 6'1", 225 pounds. Their ...
October 19, 2010
Where were you when the head-on collision that changed American football forever occurred? Most people remember the circumstances around events that affected their lives—good or bad.  My parents remember what they were ...
October 19, 2010
Which players can you count on this week to bring you the highest value and which ones should not be dragged and dropped? The answers may surprise you. As aways I take no ...
October 17, 2010
Which NFL fantasy football stars should ride the pine this week? Is Michael Vick Worth a start in NFL.com formats? Why Yahoo! formats fit certain players and not others. What defense has ...