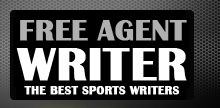 Yankee Addicts
Categories
Featured Sponsors
News published by
October 12, 2010
NFL Week 5 saw the Kansas City Chiefs (the last remaining unbeaten team in the NFL) take their first loss, the Green Bay Packers nearly see their season flash before ...
September 29, 2010
NFL Week 3 saw Sebastian Janikowski and Garrett Hartley blow it, Tony Romo and Brett Favre get their teams off the schneid, and Braylon Edwards rebound from a DUI to ...
September 14, 2010
On Monday, the Philadelphia Eagles confirmed what had been speculated rampantly over the last 24 hours: both fullback Leonard Weaver and center Jamaal Jackson will be out for the season. ...
September 9, 2010
As of today, it's on. The 2010 NFL season has kicked off, and every team's fan base gleams with optimism. "This is the year," they say, "especially if…" Well, it's ...
September 6, 2010
Every NFL team has a "second roster," that being the practice squad—a group of up to eight players who are allowed to participate in every team activity except the big ...
September 3, 2010
The Philadelphia Eagles closed their preseason on Thursday night with a 21-17 loss to the New York Jets. More important than the score were the final impressions made, and now ...
September 1, 2010
On Tuesday, the Philadelphia Eagles made official a move that many have expected for a couple weeks—and may have unofficially made the first of their final roster cuts an easy ...
August 26, 2010
Philadelphia Eagles vs. Kansas City Chiefs is set for Friday night at Arrowhead Stadium, and it will be the third preseason tilt for the 2010 Birds. Usually, Week Three of ...
August 24, 2010
2010 is a big season for the NFC South. On one end are the defending Super Bowl Champion New Orleans Saints, who return 20 of their 22 starters and are ...
August 21, 2010
Philadelphia Eagles vs. Cincinnati Bengals in NFL Preseason Week 2 didn't turn out as well as the Birds had hoped. Friday night, Philly dropped a 22-9 heartbreaker to the River ...