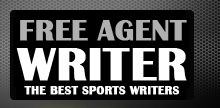 Yankee Addicts
Categories
Featured Sponsors
News published by
August 14, 2010
The Philadelphia Eagles opened their 2010 preseason Friday night with a 28-27 victory over the Jacksonville Jaguars. While the game wasn't really as close as the score indicated, there were ...
August 6, 2010
Young children all over the country grow up idolizing their favorite players, wanting to become the next "insert name here." But when you have a major superstar actually come from ...
August 3, 2010
Can't get enough of the NFL, even during the summer? No big deal, just turn on VH1 for a couple episodes of Ochocinco: The Ultimate Catch or The T.O. Show. Or ...
July 29, 2010
Training camp is officially underway! The Philadelphia Eagles began reporting to Lehigh University on Tuesday, as rookies and selected veterans convened for the first time. The remainder of the squad ...
July 23, 2010
Training camp is right around the corner, which means that Fantasy Football season is now also upon us. Many leagues still have plenty of time to draft, and of course, many ...
July 16, 2010
Those who know me know that I am a Madden freak. I've loved football video games since my dad put Tecmo Bowl in my hands in 1988, and still bust out ...
July 6, 2010
Rumors are abounding that the Philadelphia Eagles plan to release Michael Vick in the very near future. The team denies any and all reports about this, but with the current ...
June 25, 2010
In the NFL, you hear the term "overrated" is thrown around almost at will. Great corner gets burned badly a couple times? Oh, he's overrated. Quarterback has a good few ...
June 17, 2010
While nearly every NFL city has a contract squabble on its hands—from Darrelle Revis in New York to Albert Haynesworth in Washington to a handful of still unsigned restricted free ...
June 11, 2010
Earlier this week, I wrote a piece touting Five Things We've Learned from NFL OTAs so far. Now, in the same vein, it's time for me to turn that attention on ...